THE JIM PHELAN AWARD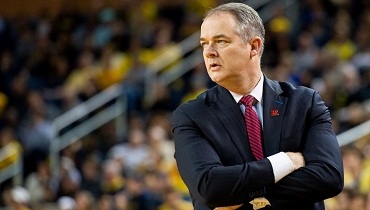 Rutger's Steve Pikiell wins the 2020 Jim Phelan Award, which is presented annually to the top coach in Division I.
March 24, 2020

THE 2020 AWARD

BOSTON, MA -- Rutger's Steve Pikiell is the recipient of the 2019-20 Jim Phelan Award, which is presented annually to the nation's top Division I coach.

Picked to finish near the bottom of the Big Ten, Pikiell led the Scarlet Knights to their first 20-win season since 2004. It was also the first time in 37 years that Rutgers finished the regular season with 20 wins.

Rutgers finished 11-9 in the Big Ten and received a first round bye, in a conference tournament, for the first time since 1995. It also marked the first time the program had posted a winning record in conference play since 1991 and the Scarlet Knights would have made their first trip to the NCAA tournament since 1991.

The award is named in honor of the legendary bow-tied coach who spent his entire career at Mount Saint Mary's University, leading the Mountaineers to the 1962 NCAA Men's Division II Basketball Championship. When he retired in 2003, after coaching for 49 years, he had amassed 830 wins (overall record of 830-524) in all divisions. In those 49 years, 19 of his teams amassed 20 or more wins in a season.

THE 2020 JIM PHELAN AWARD FINALISTS

Casey Alexander, Belmont
Dana Altman, Oregon
John Calipari, Kentucky
Mick Cronin, UCLA
Scott Drew, Baylor
Brian Dutcher, San Diego State
Mark Few, Gonzaga
Steve Forbes, ETSU
Joe Gallo, Merrimack
Greg Gard, Wisconsin
Anthony Grant, Dayton
Leonard Hamilton, Florida State
James Jones, Yale
Kyle Keller, Stephen F. Austin
Greg McDermott, Creighton
Ritchie McKay, Liberty
Matt McMahon, Murray State
Joe Mihalich, Hofstra
Steve Pikiell, Rutgers
Bill Self, Kansas